Regular price
$23.99 USD
Sale price
$14.99 USD
Unit price
per
Sale
Sold out
Purchase the e-book instantly

Receive download link via email

Send to preferred e-reader and enjoy
TROPES
Reverse Harem

Vampires

Royalty Trope
📚 Prepare for an Immortal Adventure: Brace yourself for a journey into a world where danger and desire intertwine, where vampires rule the night, and a human's fate rests on a knife's edge.


File includes all 4 full-length ebooks from the RAVANA CLAN VAMPIRES series:
Book 1: Chosen By Darkness

Book 2: Into the Darkness

Book 3: Falling For Darkness

Book 4: Surrender To Darkness

About Book

Ariana never imagined her life would take such a perilous turn. 

Abducted under mysterious circumstances, she finds herself trapped within the opulent yet chilling fortress known as "The Fort." Her captors? Four undeniably handsome vampire princes, the enigmatic Ravana brothers, who insist that she is the key to their survival.

As Ariana begins training to be their Guard, a tantalizing and forbidden connection sparks between her and the princes.

Their love is prohibited. Outlawed. A sin.

With ancient vampire law destined to pull them apart, their enemies close in. Together, they must navigate a treacherous world of ancient rivalries, dark secrets, and an impending war that could change their destinies forever.
Chapter One LOOK INSIDE

CHAPTER ONE

It was coming. The darkness.

It always started like this. My eyes were closed, in a deep sleep. That's when the awareness came. A heavy weight settled over my chest. There was a metallic squeal of crushed metal, an unworldly jarring of my body, and worst of all, the complete feeling of being alone.

I knew what was happening. My mind wouldn't let me wake up though. I was in the dream. The dream about my life; the dream that had already taken place. The moment in my life that I just wished to forget, but my brain wouldn't let me. It was the night my life changed forever.

I could feel myself crying. A silent cry that still held the tears unchecked on my face. I was trapped, alone in the backseat as the car skidded to a stop at an unnatural angle, flipped over onto the hood. The weird part about it was, though the fear was settled deep inside my heart, I felt no pain. That would come later.

My mom, who had just been in the passenger seat talking animatedly, was now hunched over, upside down, and dangling from her seatbelt. Fear started to close in, the weight on my chest heavier and heavier as I searched around me. I couldn't see Mrs. Lawrence. She'd been driving. It was just like any other day, until it wasn't. Now, all these years later, I couldn't even tell you where we were going. It wasn't unusual to find us all in the car together--me, my mom, Mrs. Lawrence and…Jake.

While still submerged in my subconscious, I searched around the car for him. He wasn't there. I remember my mind hyperventilating, trying to piece the clues together. Where could Jake have gone? It was a car accident, and because our mothers had been safety freaks back then, he had had a seatbelt on. Now, you would call them helicopter parents.

They died safety freaks. What little good it did them.

I remembered my eyes searching frantically for something or someone. I didn't want any of this to be true. One second, we were driving down the road. I was listening to the soothing, calming sound of my mother's voice. The same voice she used to sing me to sleep. Then there was nothing, like the flashing scenes of a movie. In the first scene, I had a life. It wasn't perfect, but it was mine. In the next second, I'd lost everything.

In the dream, I closed my eyes just like I had that day. I saw nothing but dark. Nothing but the black hole everything had turned out to be. When I opened my eyes, it was worse. Sometimes not seeing anything at all is a relief to your senses. With my eyes open, I saw everything I didn't want to see. There was no Jake. My mother was dead, clearly, as I watched the blood run down her face and drip onto the ceiling of the car. Mrs. Lawrence, I could see only her hair dangling down, rivulets of blood twisting in it as if she was some gory Halloween costume. Then, the car shifted…

My eyes flew open, and I gasped in a huge breath. Sitting up, I threw my legs over the side of the bed. Running my hands through my hair, I rested my elbows on my knees, hunched over them with the weight of everything. I hadn't had nightmares like that in so long. Then one day a couple weeks ago, they all came flooding back.

I'd always been good at blocking things out. Within months after the accident, I'd blocked it out. I blocked out the crazy cat lady, who wanted me to call her mom after I'd stayed with her only a day. (Another great pick by the state when you're an orphan with no family.) I blocked out the too touchy father from my third family, and I blocked out the night the homeless guy on Seventh Street taught me how to defend myself after getting beat up for the $3.32 I had in my pocket. That was the night I ran away.

It's funny now to think that I ran away. How can you run away from your own mind? How can you run away from your own life? It's impossible. I was beginning to realize that. There just wasn't anything I could do to not be me.

I stood from the bed, my back aching from the stiff, cheap mattress in my mildew infested apartment. My feet slapped against the concrete as I made my way to the small bathroom. I turned on the harsh, synthetic, unnatural light that blinked before coming on completely. The crack in the mirror sliced through my reflection. The little apartment, with its bed in the living room, wasn't much, but it was mine. I opened the pus yellow medicine cabinet that could only have been fashionable in the 70's and stared inside. My name stared back at me from the pill bottles. I took one in my palm, turning it around and around. I saw my name, the name of the medication, and how often to take it. Just like all the other nights, I put it back and shut the mirror again, choosing at first to look at my reflection.

The doctor had given me those pills. I had taken them for some time. I just couldn't bear to take them now. Call me crazy, and half the time I was, but I just didn't want to forget anymore. Maybe that was my problem before. I kept running from myself, from my life, and I didn't want to run anymore. Well, didn't want to run in the figurative sense, I liked to run in the literal sense.

I grabbed my jogging clothes that I set out the previous night and pulled them on. There was something about the act of running that cleared my head. Maybe it was the fact I pushed myself to the point of exhaustion. Maybe it was the fact that I couldn't focus on anything else when I needed to watch my feet in the dark, so I wouldn't faceplant on the sidewalk. But running, however weird it was that I was running at night, had become my go-to therapy to calm myself down. I couldn't complain, really. All this extra exercise had done well for my body, if I cared about that kind of stuff.

I went to the bathroom again and pulled my hair into a low ponytail. Dark purple bruising under my eyes from lack of sleep reminded me that I needed to do this. If it weren't for the running, I wouldn't get any sleep at all.

From the dresser, I picked up my keys, the mace, and set out for the waterfront. In old Calcutta, you could run alongside the river for miles. It wasn't a large river by any means. The narrow width pushed the water through quicker to the lake twenty miles or so down the road. I would've gone running by my house, if I had a death wish. The apartment I could afford was not in the part of town you wanted to be alone at night. Instead, I quickly ran, passing apartment buildings that mirrored mine until I reached the abandoned warehouses where I sped up, and finally slowed when I made it to the Riverwalk. I was already breathing heavily by this time, and my thoughts were already miles away from the accident so many years ago. In and out, keep moving your feet, watch your breath. If I didn't breathe correctly, I'd get a sharp pain in my side. I'd learned a lot about running just by doing.

I ran past the back of the tiny shops where the town tried to make Calcutta a tourist destination. I didn't know why they bothered. It wasn't as if having a river running through the town was a rarity. Calcutta was just ordinary, unlike me.

I ran faster, racing toward the lock. I raced until I could feel the skin around my cheeks tremble when my feet slapped the pavement. I ran until my lungs could barely keep up. I ran until I couldn't run anymore. Not because I was physically exhausted, but because the lock and the 'no trespassing' signs loomed in front of me. I touched the high chain-link fence as if I had been racing with someone else and won. Who was I kidding? I never won in my life.

I turned and made the slow trek back up the river. I always liked being out at night. Things seemed much calmer. Sure, with the lack of light, there was always the unknown. Maybe that's what I liked about it. In the light, everything was kind of false, wasn't it? In the light, you always knew what was coming after you, but you really didn't. It was like a big, fat lie or a false sense of security. The dark, though, didn't lie. It didn't try to make it seem like things would work out when they really wouldn't. It was honest about who it was. It was black, gaping, and unseeing. It was everything the light wasn't, yet real.

I stopped at my usual spot. The bench looked out over a small grassy area before the riverbed took over, winding its way through town. I sat down and propped my feet up on the metal barriers erected so no one could get too close. Between the posts, though, I could see the moon shine down on the river, reflecting its yellow orb back up to the sky. The weather was also just right lately. There was a bit of a chill in the air, just perfect for running. The days had grown humid but the night held everything I wanted from it.

A crunch of gravel sounded, and I whipped my head around to look behind me. My eyes darted through the darkness, searching for anything. Finally, my gaze moved lower and I saw a small chipmunk at the edge of the trail where the cement gave way to small stones. "Hey, little guy," I said as relief washed over me.

The chipmunk ignored me. I didn't mind.

I turned back around to stare at the river once more, loving the way the breeze caressed my face. Sweat from the exertion had started to run down my back and cold shivers and goosebumps ran up my body. It was almost time to go back. I could feel the darkness coming again but this time I knew the promise of it was numbness. My mind would let me sleep now.

I placed my feet back on the ground, stood, and walked back up the trail. As soon as I got to the line of warehouses, I'd have to run again. As I always did when I got to that part, I thought of homeless Old Joe. During my runaway days, Old Joe had taken me under his wing. He told me he knew Bruce Lee, and though I always thought he was a bit of a crackpot, he did seem to know what he was doing when it came to martial arts.

The night he found me in the alley, he showed me basic self-defense moves. It grew from there. Even now I visited him sometimes. I had even, though stupid as it may have been, invited him to come stay with me. He was the closest thing to a father figure I've ever known. In his own way, I believed he cared for me. He may have even thought of me as a daughter himself, but he refused my invitation. He told me he was too old, too stuck in his ways, to live within four walls now. That night amongst all the excuses, he told me something that stuck with me. The wrinkles pulled at his face as he took in my offer. His eyes were cast down as if he were truly thinking. When he looked up, he said, "I just want to be free. You know what I mean?"

At the time, I had no idea what he meant. It seemed like living on the streets was far from the cry of freedom he deemed it to be. Now, though, I kind of understood. The apartment meant I had to stay employed, even though it was nothing to write home about. I worked part-time at a laundromat during the early hours of the morning. For my second job, the kung fu school down the street let me clean its facility in exchange for money and free self-defense lessons. I would've refused the self-defense lessons, thinking that Old Joe had taught me everything I needed to know, but the owner insisted. It was just barely enough to keep me alive. You see, it wasn't really freedom at all. I had a place to stay; I had things to eat. That was it. Was that all there was to life?

The same crunching of stones on cement sounded just behind me. My eyes darted up from watching my feet pad against the sidewalk. I was already in the warehouse district, and I hadn't picked up the pace. I did now, immediately making my legs move. My muscles, used to this now, pulled and tightened, allowing me to break into a run. Just ahead, I saw the facade of my ground-floor apartment. The old brick building that looked more commercial than residential. It wasn't much, but it was home to me, and I was happy to have it. Freedom, to me, meant living within four walls.

A tingle of fear crawled up my spine. I didn't want to look behind me. The same crunching of stones sounded, and I knew it couldn't be the chipmunk this time.  There it went again, the darkness, wheeling me in. It was probably nothing. At least, that's what I told myself. My lungs burned inside my chest, my muscles had started to ache, but I pushed and pushed. I only had a half a block to go. When my feet skidded to a stop by the old steel railing that led to my door, I breathed a sigh of relief.

It was cut short when I finally turned my head. My eyes widened. I stopped breathing, the earlier breath held tight in my chest. There was a guy there, under the only streetlamp within sight. I stumbled backward up the steps. The guy, he couldn't have been older than mid-twenties, smiled at me. He was handsome, and I wanted to kick myself for thinking like that in this moment. For all I knew, well I didn't really know, did I? He could have been a neighbor. I didn't really pay attention to my neighbors. But what was he doing out at this time of night? Then again, what was I doing out at this time of night?

I looked down, hoping to see jogging shoes and exercise clothes like I wore, but there was nothing. He was dressed in khakis and a sweater, so unlike what I would've guessed that I peered more closely, making sure he wore what I thought he did. My nerves automatically calmed, and some lying voice in the back of my head told me that well-dressed men, whether they were out in the middle of the night or not, did not mean me any harm. It also helped that he was handsome, with dark hair gelled to the side artfully. He was chiseled; at least that's what I thought. I recognized the same definition in him as I had started to see in myself with my training and my running. Though, mine was nothing compared to his. He seemed to have unnatural musculature. It was like what I would've imagined a Greek God would look like. I shook my head at myself, disbelieving the way my mind worked.

Whether this guy was good-looking or not, I needed to get away. I kept backing up until my back hit the storm door, creaking. I jumped at the noise. In front of me, the guy had moved to the bottom step. He laughed; his husky voice guttural, melodic. I turned, knowing the only way to get into my house, to get to safety, was to unlock the door and lock it behind me. This may have been my undoing though. With my back turned, he was immediately on me, his hand coming to rest on mine as it worked on the lock.

His breath hit my face, unnaturally cool in the night. A shiver started from my toes making its way all the way up my spine to between my shoulder blades. The guy tsked. He peeled my fingers away from the lock one by one. "You won't be needing this."

I turned toward him. Though my body sent warning signals, I still moved closer to him on instinct. His eyes drew me into their chestnut depths.

"I-I won't?"

With a smirk sliding onto his face, the guy shook his head. "No, I'm afraid not. You've been chosen."

I couldn't be sure what happened next, only that there was a flurry of movement, and then blackness. I tensed, waiting for the nightmare to come again.
Share
View full details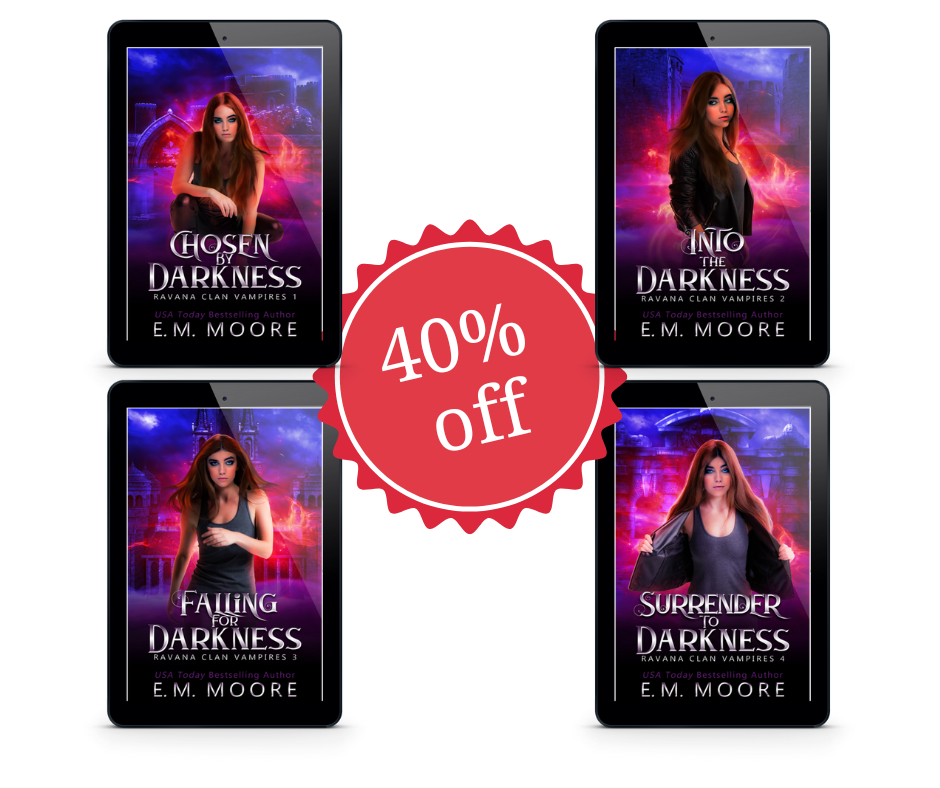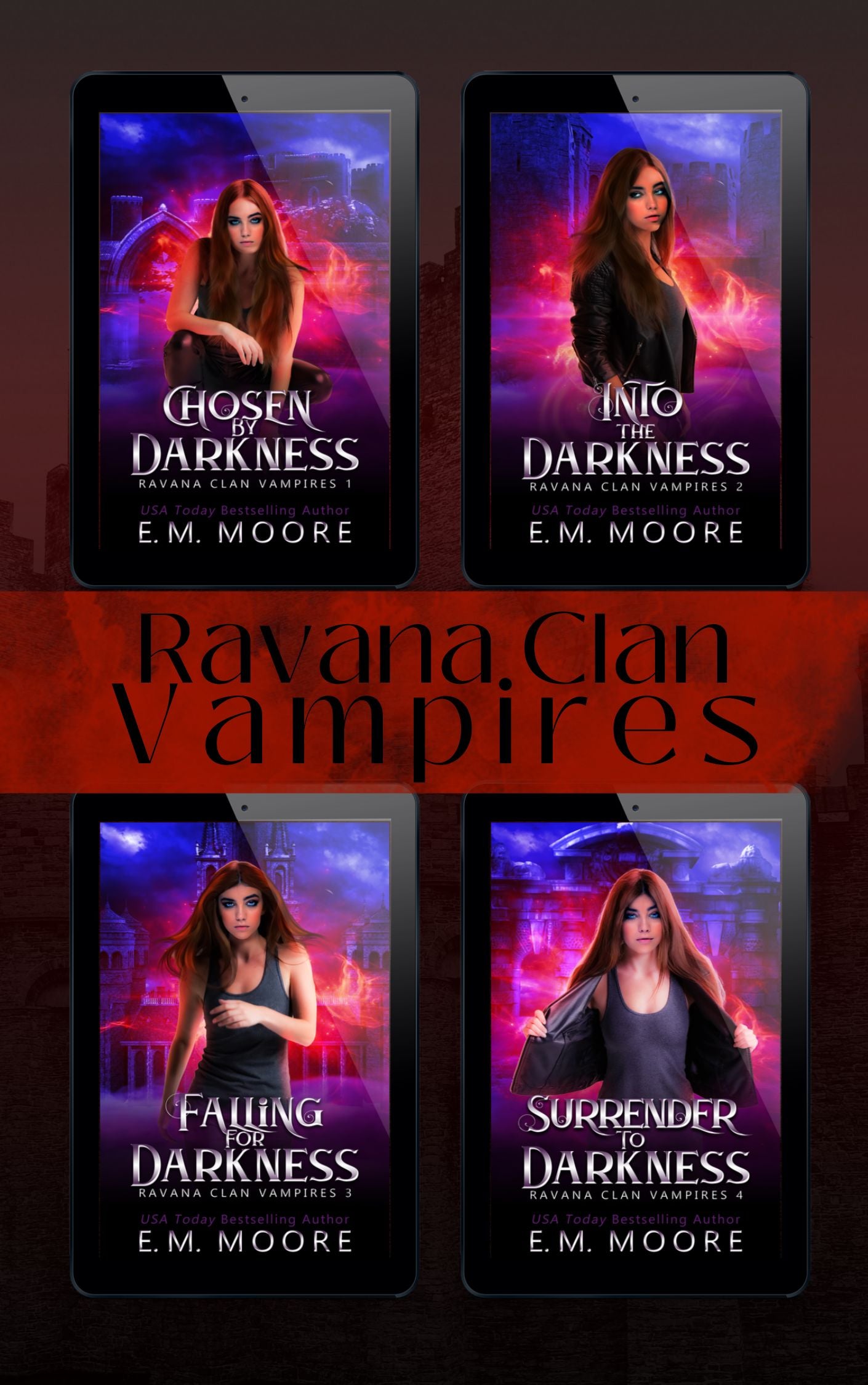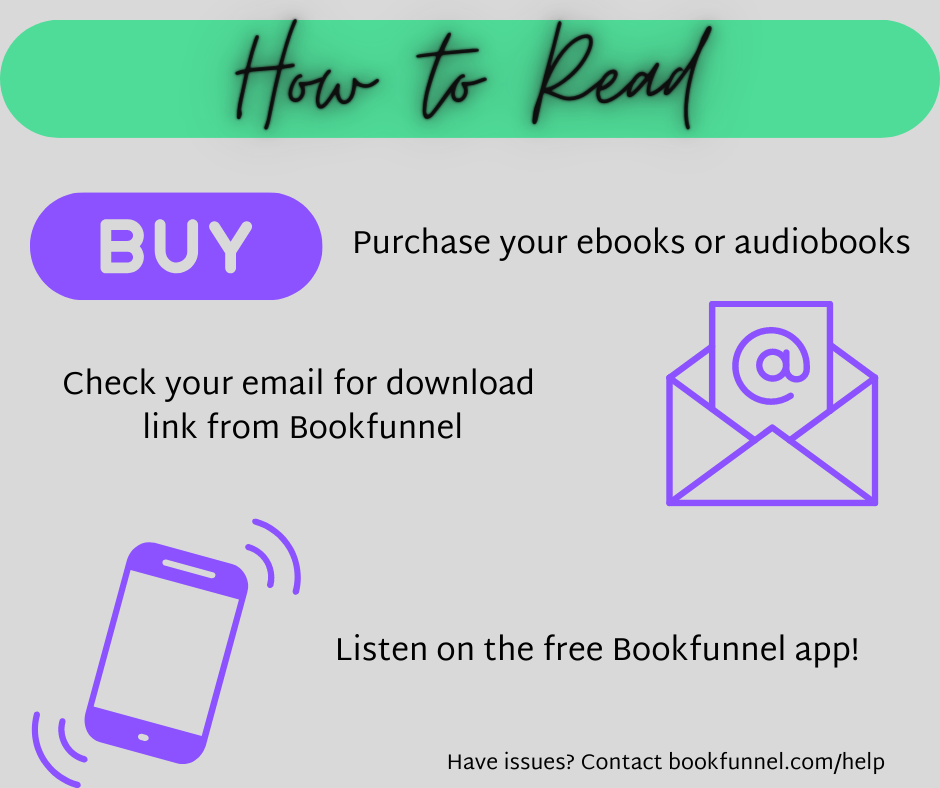 Fun to Read
Ariana hasn't had a easy life. She lost her mother in a tragic car crash and bounced around in foster care. She ran away and has learned to survive. Her world flips on its head during her night run and nothing is same again. She decides to choose her destiny with the help of her 4 hot princes. Things are not easy but she is willing to push herself and accomplish her goals. She plans to fulfill her goals and theirs.
Chosen By Darkness: Ravana Clan Vampires
When I first started this book I couldnt figure out where it was going. I never expected it to turn out the way it did. It was a pretty good story though but I am still wondering why she was chosen. Hopefully it will be in the next book. Its a really good read and I know other readers will enjoy it too.
Intriguing Story
I loved this book, really couldn't put it down! I defecate wait to see how Ri and the guys develop in the next book!
Not a bad first book
This book surprised me. It reminded me a lot of Vampire Academy. It was a good read and I'm already downloading the next book!
Well done!
This book started off just a tad slow for me but once into the book and the boys were in the picture it took Way Off! The story is AMAZING! Love the characters and interesting perspective take with vampires and there human body guards. You need to read this book if RH fan. Then go on and start reading the next serials because the story just keeps getting better and better!